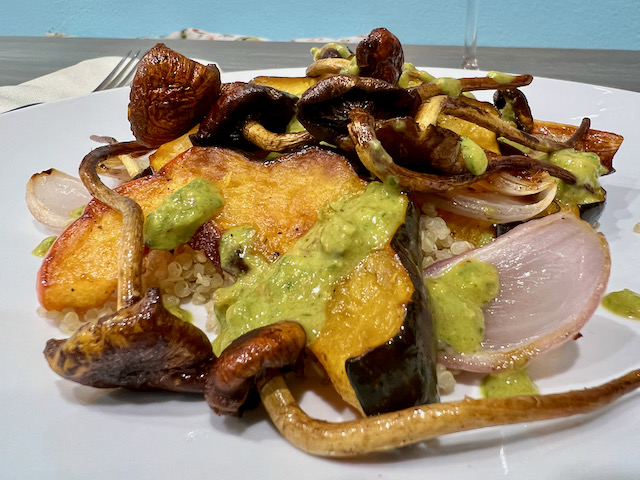 I came across these gorgeous cinnamon cap mushrooms for the first time at the farmer's market today. The burnt orange color just shouted fall to me. And I had to try them.
It is very important to note that these mushroom must be eaten cooked. A quick roast, sauté, or plunge into broth of a soup is great. I quickly cooked one up in a pan with a bit of olive oil and salt and pepper. I purposely did not add any other seasoning because I really wanted to taste the mushrooms in their pure form.
They did not disappoint! Nutty, crunchy, and full of umami I was in heaven. I could have eaten everyone of them just like that. But I had dinner to make and needed to stretch out my divinely tasty and slightly pricey find.
So I created this dish with some of my favorite fall flavors.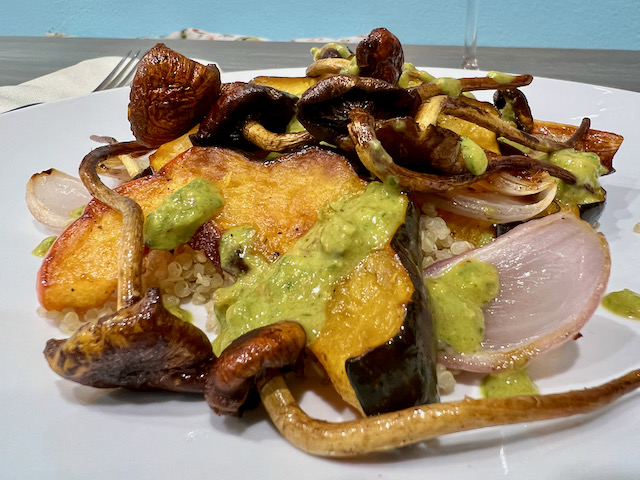 Cinnamon Cap Mushrooms with Acorn Squash and Pistachio Arugula Dressing
Cinnamon Cap Mushrooms DON'T taste like cinnamon! They are nutty, a bit crunchy and pair so well with the fall flavors of acorn squash, shallots, and pistachios in this dish. The lemon and arugula in the dressing brighten your palate and make each bite exciting.
Ingredients
For the Acorn Squash & Shallots
1

acorn squash

3

shallots

2

tbsp

avocado oil

1/4

tsp

sea salt

1/4

tsp

black pepper

1

tsp

honey
For the Dressing
⅓

cup

shelled pistachios

⅓

cup

olive oil

extra virgin

2

tablespoons

lemon juice

¼

teaspoon

sea salt

1

tablespoon

honey


optional

3

tablespoons

warm water

½

cup

arugula
For the Mushrooms
1

tbs

olive oil

extra virgin

4

oz

cinnamon cap mushrooms
For Serving
1

cup

cooked quinoa

optional

1

cup

arugula

optional
Instructions
Pre-heat oven to 400 degrees F.

Slice the acorn squash into 1/2 inch slices. Peel and quarter the shallots. Add both to a bowl and toss with the avocado oil, salt, pepper, and honey if using.

Arrange in a single layer on a parchment lined baking sheet. Roast in the oven for 30 minutes. Until soft and slight browned.

Meanwhile, blend all dressing ingredients until smooth. Adjust for consistency. Add more water if the dressing is too thick. Add more nuts if it is too thin. Set aside.

Prepare the mushroom by cutting into single stems if they are attached. Keep the stem and the cap intact. DO NOT WASH. Gently shake off any excess dirt or wipe gently with a paper towel.

Heat the oil in a medium skillet, add the mushrooms and sauté for 5 minutes until the mushrooms turn toast up turning a bit darker in color. Remove from heat.

Toss the remaining arugula with a tablespoon of the dressing. Create a composed plate by adding the quinoa, dressed arugula, squash, and then finally the mushrooms. Drizzle with the arugula pistachio dressing and enjoy!
Notes
If you can't find cinnamon cap mushrooms, you can substitute them with baby bella, shitake, or clam shell mushrooms.